Late Realization
by Leena
(Mumbai, Maharashtra, India)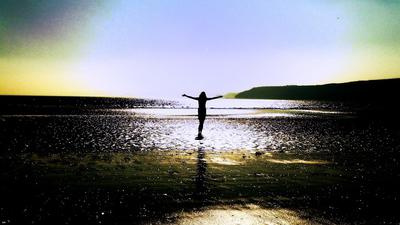 Hi guys... I am a 32-year-old woman, a gynecologist by profession. My husband and I were in a relationship since the 10th standard of my schooling. That is since I was 16 years. At first.... during the first 9 months of our relationship, he seemed to be a real gentle man. But approx. after 2 years.... after we had a bit of kissing and cuddling.... he totally changed.

He started scolding me at every single thing, started to use abusive language and call me a slut whore... and so on.... I was completely into him and could not realize anything. I thought that this was a common thing in each relationship. He started being more possessive and restrained me from keeping any friends who were boys. Didn't even allow me to talk to boys without any specific reason. At first I liked this. But then... it was suffocating.

It was when I was 22 years that he first hit me.... it was a slap under my left cheek. His mum always found faults in me, and I just complained to him about that... and he slapped me. I was deeply shocked and ran out of his home crying. Then he pleaded to me and strongly apologized and promised that he would never commit this mistake again.

We got married at the age of 24. He is 1 and one-half years elder to me. After 4 months of my marriage, the dooming gradually followed. Every time we had our PG exams.... he got damn frustrated. After my clinic.... where I stood for the whole day and did the tiring surgeries and deliveries.... when I returned home at night.... he would be there sitting in front of the TV... as he was preparing for his finals in general surgery.... he sat the whole day reading. I worked hard for the whole day and got completely exhausted...when I enter our flat.... he would order me to prepare some good food as he would not like the food from the mess. Or either he would want me to have anal sex or hard sex even if I was exhausted. Or he would simply want me to wash his underwear. And when I would oppose to the slightest thing... I would get the most horrible beatings of my life... he would beat me with whatever he gets in his hand... his belt, his shoes, the showpiece, the flower vase, or simply a book, TV remote, etc. He would punch, kick, slap, bite. And during all this, if I even shouted a bit in pain, he would beat me more; all the other rooms around us were occupied by the PG colleges... and in front of them his impression is like a cool and calm boy. Next day morning I have to wake up early.... sit in the bathroom crying and dressing the bruises.... wearing the dress that hides them.

Those 3 years went horrible. Almost twice in a week I would get my doses. Finally.... after completing our post graduation, we returned to our hometown where we lived in a joint family.... his parents and we. I thought that at least in front of his parents he would never do any such stuff as his parents were really supportive. But the problem continued. Now, even for very small thing he would just burst out and hit me. I just completely lost my senses. Life to me was like hell. Every time I just prayed god to kill me after those horrible nights. Whenever I talked to him about his. He promised me that he would never do it and.... repeated the same.

He often cried in front of me and emotionally blackmailed me that he couldn't live without me and that I was his life. I loved him so dearly that I couldn't leave him.

Finally at the age of 27, I got a baby boy. I thought this would change him.... and he would prove to be a good dad and husband. At the hospital... seeing our baby he promised that he would completely change and never raise his hands against me. Approximately 9 months ago, when my child was about two and one-half months, he argued on not making coffee for him. I told him that I was busy with the baby to make him sleep. He got so angry that he started hitting me with my boy's wooden toy. My boy woke up and started crying bitterly. But, my husband would just go on hitting me... with the glass cup toys slippers everything. My nose was bleeding, and I started shouting in pain. My mother in law and father in law came running and stopped my husband. That was it. That night.... instead of crying bitterly in the bathroom, I went to my parent's home and the next day filed the divorce. He repented on his mistakes. Apologized strongly, swore to our son that he wouldn't do it to me anymore... and that to give him a final.... final last chance.... I gave him a last chance.... and since last for years.... I have completely been satisfied.... he has from then proved to be best father and best husband... I love you Nihar (my husband)

I didn't get any justice until I showed the courage to live without him. To all the women suffering.... or being a victim to domestic violence: Please, immediately, I urge you to leave your partners... no matter how much do you love them. Because they will realize their mistake only after you are gone. They will realize how much they love you only after you are gone.... they will realize your importance... only after you are gone. And then, you could start a whole new peaceful journey.... without violence... because.... better late than never. They will surely do have a late realization....