Domestic Violence Advocate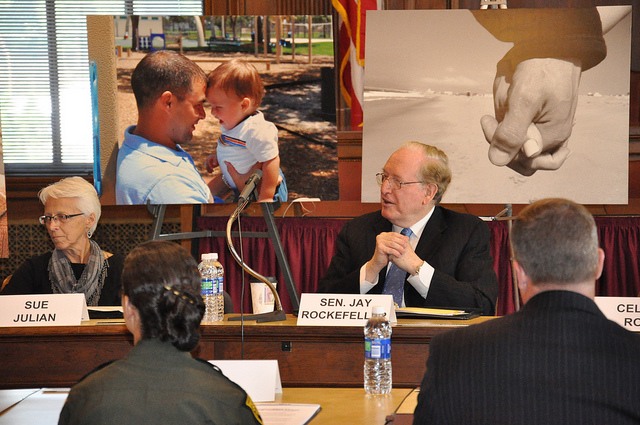 A domestic violence advocate can help victims in the midst of overcoming their situation or can be a messenger for change to prevent future violence. Victims of domestic violence have a long road ahead of them when they make the brave decision to leave their abusers and reclaim their lives.
Advocates Help with Transition

Abuse survivors need domestic violence help to navigate the legal system, acquire safe shelter and start a new life. They may need to move to another town, or even another state to ensure their safety. In addition to finding new employment, children must be enrolled in new schools.
Although leaving an abusive relationship requires many scary changes, it is the only safe and healthy option. Domestic violence advocates work in a variety of capacities to assist victims in regaining their safety and well-being.
Advocates Help with Support

Some domestic violence advocates provide counseling. These advocates are often the first advocates that victims work with. Oftentimes victims will contact these advocates by calling a domestic violence hotline or will be introduced to them while at the hospital for injuries sustained from their abusers. These advocates are responsible for providing support and options to the victims. Frequently, this includes assisting the victims with locating a safe place to stay, often in a domestic violence shelter.
Advocates Help with Children

In addition to the victim, any children involved must be cared for. A domestic violence advocate will sometimes provide support to children involved in domestic violence. In other cases the advocate will arrange for children to speak with a child psychologist or other qualified professional.
Advocates Help with Legal Needs

Once safe shelter is located, advocates often assist victims in legal matters. In civil and criminal cases, attorneys act as domestic violence advocates. Civil cases include cases in which victims are seeking protective orders, filing for divorce, filing for legal custody of children or suing for damages. Civil attorneys often work pro bono or are employed by a domestic violence advocacy group.

Attending to civil legal matters is vital to a victim's overall well-being. In addition to rights and protections afforded by protective orders, divorce and gaining legal custody of children, victims often gain a sense of empowerment as these steps are taken. Ultimately, the job of all domestic violence advocates is to help victims to cope with the traumas they have endured and empower them to live healthy lives full of richness and people who genuinely care about them.
Attorneys working on prosecution of criminal cases are typically employed by the district attorney's office and are prosecutors. These advocates work with victims when they will be required to testify in a criminal case against their abusers. It is the responsibility of these advocates to ensure that the victims' abusers receive a just sentence and that the victims are treated fairly and with dignity and respect throughout the trial and the events leading up to the trial.
What a victim tells an advocate is always considered confidential if the advocate is an attorney. However, if the advocate is not an attorney confidentiality varies state-to-state. In general, conversations between the victim and advocate are confidential. Confidentiality is often void in the unfortunate death of a victim.
Advocates should consult their state's Bar Association to ensure that they adhere to the confidentiality requirements of their state. Different types of advocates sometimes have varying rights and obligations regarding confidentiality.
Advocates Help Promote Change

In addition to advocates assisting victims, some domestic violence advocates educate the public and advocate for legislative change. Domestic violence is a problem with a societal core. By educating the public, society is made aware of the realities of domestic violence. An educated society will work alongside advocates to right the wrongs of domestic violence.

Public education advocates work in a variety of settings, including schools and community centers. These advocates give speeches, offer presentations and provide information to the public regarding what domestic violence is, what to do if you or a loved one is a victim of domestic violence and how to stop domestic violence.
Advocates who lobby for legislative change work towards improving the rights of domestic violence victims and enforcing harsh punishments for their abusers. Each state is different in its laws and therefore the lobbying work tends to vary slightly from state-to-state. Lobbying efforts also vary based upon if state or federal legislative action is requested. These advocates work closely with public education advocates to ensure that the public knows about the current legislative efforts to end domestic violence.
A Domestic Violence Advocate May be a Volunteer

Volunteering as a domestic violence advocate is a big job and a huge responsibility, regardless of which capacity you volunteer in. Regulations of becoming a domestic violence vary from one state to another, but many states require volunteer advocates to undergo a minimum of 40 hours of training.

The first step in becoming a domestic violence advocate is to determine what type of advocate you want to be. Consider your skills and preferences. Public education may suit you well if you enjoy speaking to groups. Lobbying may be right up your alley if you enjoy politics. Counseling advocacy may be your calling if you prefer to work one-on-one with victims of domestic violence in your community.
After you determine what type of advocacy you want to pursue, proceed by contacting a domestic violence agency and inquiring about volunteer opportunities. If you are unable to find contact information for a particular agency, contact the non-emergency phone number of your local domestic violence hotline. It is likely that a volunteer advocate will pick up the phone and will be able to point you in the right direction to get your volunteer career as a domestic violence advocate started.
Evaluate how you feel about performing the type of domestic violence advocacy you chose throughout your training. You may find that you are more eager than ever to start volunteering, or you may learn that your personality attributes and personal strengths would best be utilized in another sector of advocacy.
Domestic violence advocacy is a serious job, so feel comfortable in choosing a different role if you find that the first role you chose isn't the best fit. Ensuring that you're volunteering in a capacity in which you feel comfortable will allow you to provide the most help to victims of domestic violence.
Former Victims Can Become Advocates Too
Share Your Story
Don't hide your success, fears, and story from others. Help others relate and find courage. Tell your domestic violence story. You may remain anonymous if you choose.
Stories by other visitors
Click below to see contributions from other visitors to this page...
Return from domestic violence advocate to more resources for domestic violence help ...